Swansway Enterprise Challenge raises over £5,000 for homeless centre
---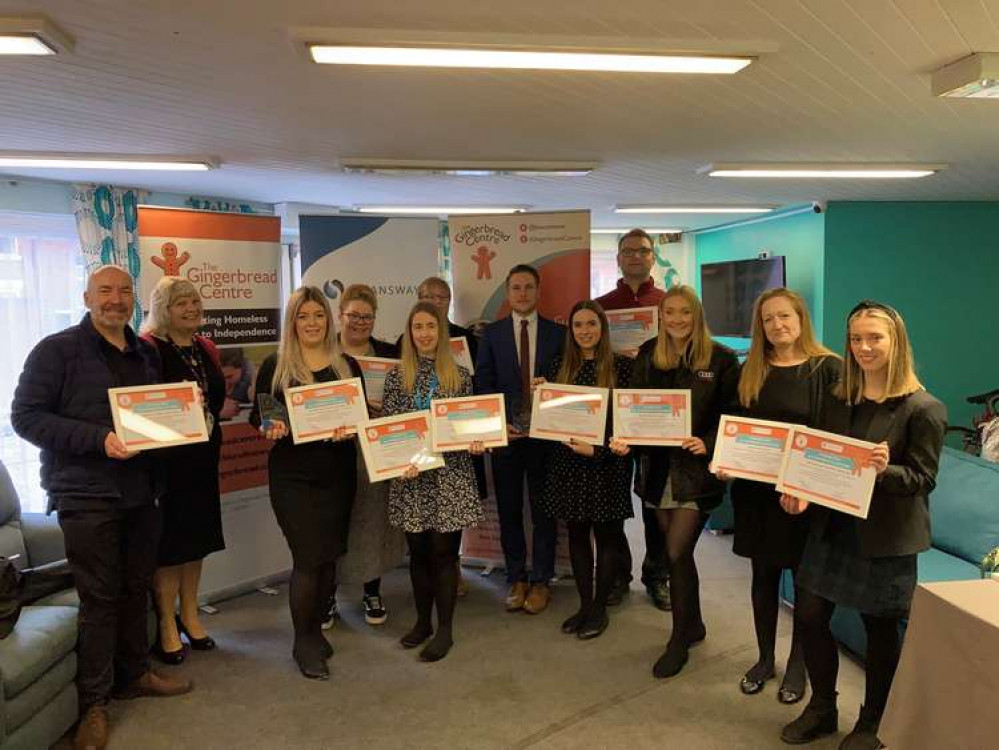 Award winners with Ann Ewens, CEO of The Gingerbread Centre and Leah Hodgkinson of Swansway Group.
An Enterprise Challenge organised by the Swansway Group raised £5,081 for a homeless centre.
The challenge saw 12 teams from local businesses each given £50 and asked to turn the initial investment into as much money as possible by any means that was safe, legal and ethical.
The teams came to the centre for a presentation of certificates and awards by Leah Hodgkinson from Swansway.
Top honours went to Tunstall-based Una Health Limited who were the most successful individual team and also took the prize in the small business category raising a fantastic £1058.
Runner-up small business was Stone-based Woolcool who raised £375.
Winner of the large business category was Trentham Lakes based Blue Bay Travel whose four teams raised £1,857 with Swansway Group who raised £1,210 across their three teams taking the runner-up spot.
Other award winners included Uttoxeter based Heath House Kitchen and Trentham's Top Banana Group, each winning innovation awards for creativity.
"We have been amazed by the innovative ideas and amazing range of activities that the teams got up to in order to raise money", said Chris Belyavin fundraiser at The Gingerbread Centre. "We've seen car washes, tuck shops, a 5-a-side football tournament, online shops, delicious desserts and a sale of designer clothes."
The Stoke Gingerbread Centre is a local charity that supports homeless families in the region.