England Amputee Football Association nets support from Crewe firm ahead of World Cup in Turkey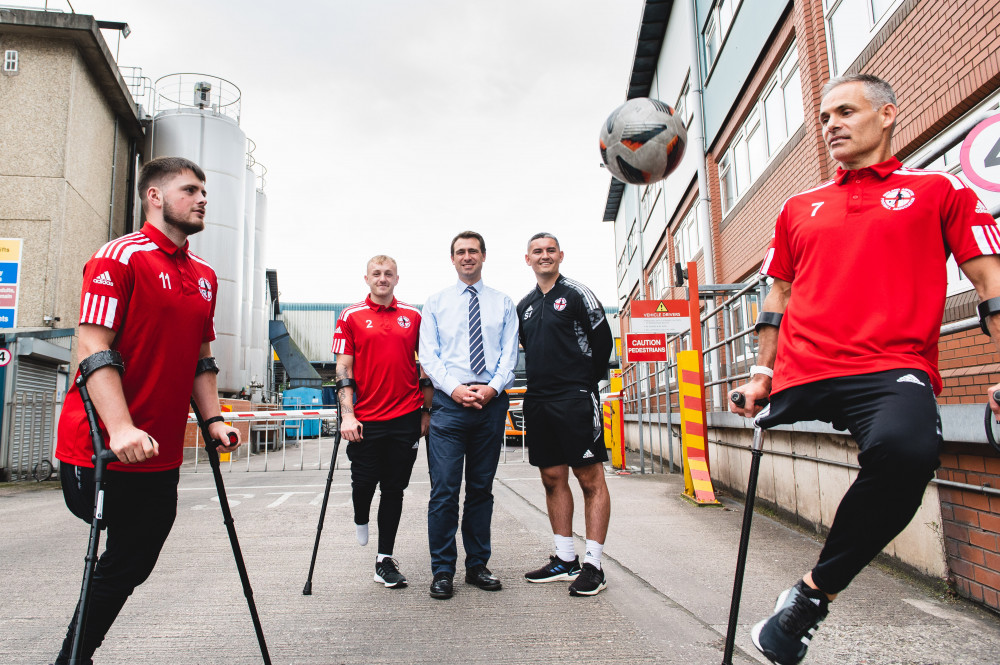 England amputee footballers show off their skills at Mornflake.
England Amputee Football Association has won support from a Crewe-based company as it campaigns to raise awareness of the sport and funds to send players to the World Cup this autumn.
The national team's players, who train at Reaseheath College in Nantwich, paid a visit to Mornflake's Crewe works where they were warmly welcomed by managing director, James Lea.
Mornflake, a long-standing sponsor of Crewe Alex as well as grass roots football, is making a contribution to the cost of the trip to Turkey where the competition is being hosted.
James said: "To meet the players and hear how they have overcome personal trauma to play football at national level was a privilege.
"They are truly inspirational ambassadors for their sport and it is our pleasure to help them fly the flag for England at the World Cup by making a contribution towards their trip."
The England amputee team is managed by former Burnley, Bolton and Blackburn boss, Owen Coyle, who said: "The WAFF Amputee World Cup 2022 takes place in Istanbul, Turkey in October with 24 competing nations from across the world.
"This will be a fantastic opportunity to promote our aims on a world stage and to inspire any person with an amputation, congenital deficiency or other limb affecting disorder to play sport and experience the camaraderie of being part of a team.
"As a charity we need to fundraise for the trip and Mornflake has kindly made a contribution. We are delighted to partner with Mornflake as we believe our values align, specifically with the impact in the local community which Mornflake continues to support and develop.
"As an organisation we have been based in Nantwich for six years and have built an incredible relationship with many organisations and supporters alongside providing opportunities for both children and adults from the local area to engage with participation or awareness of the sport."
The England Amputee Football Association (EAFA) provides amputees and people with congenital limb deficiencies and restricted use of limbs with the opportunity to play football locally, nationally and internationally.
Mornflake welcomed Glasgow-based Owen, team captain Dave Tweed from Manchester, midfielder Rhyce Ramsden from Bolton and defender Sean Jackson from the Isle of Man.
Owen, now head coach at the Scottish professional club Queen's Park FC, added: "Amputee football is highly-regarded in Turkey where the national team are professional and players receive a wage.
"Our players and staff have to fundraise to compete at the World Cup and need all the support they can get so we hope other companies will follow Mornflake's lead.
"Our national team reached the final of the European Championships in Turkey in 2017 and are training hard for October. They will play their hearts out.
"We have seen women achieve amazing things at Euro 2022 and we hope to 'bring home' more for success for England."
For more on Mornflake see www.mornflake.com
To support the England Amputee Football Association go to theeafa.co.uk