Job of the Week: does software development interest you?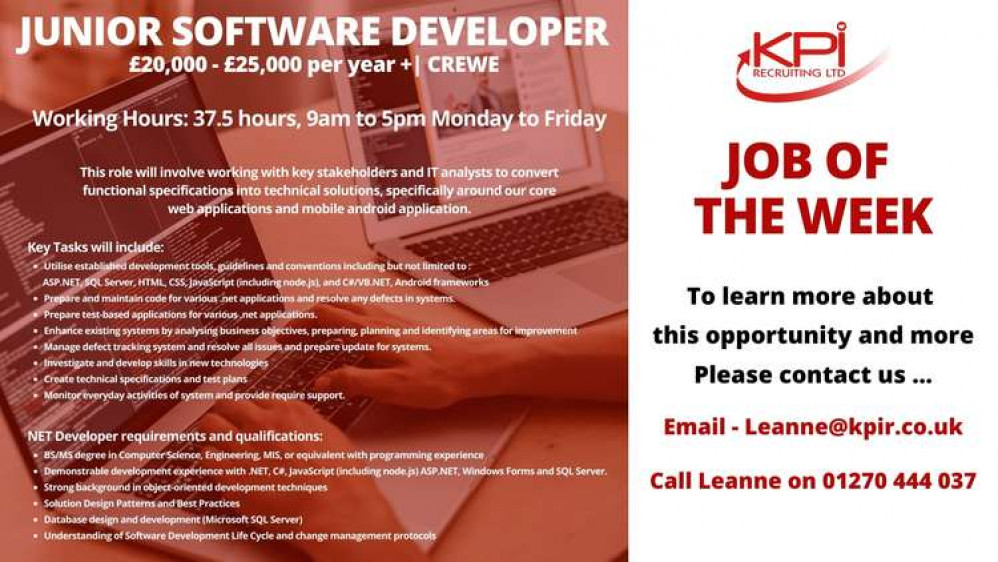 THERE are lots more jobs available now in the Crewe area despite the impact of the pandemic.
We have many of them listed in the Crewe Nub News Jobs section, which we bring to you in partnership with KPI Recruiting Ltd.
Every week, we highlight a job opportunity or opportunities in the Crewe area in greater detail to give you a helping hand and give you a chance to browse our jobs list.
This week we feature a job for a junior software developer commanding a salary up to £25,000.
The role involves working with key stakeholders and IT analysts on technical solutions, specifically around the company's core web applications and mobile android applications.
You will need a degree in computer science, engineering or equivalent with programming experience.
Salary: £20-£25k Location: Crewe
Hours: 37.5 Monday to Friday 9am to 5pm If you are interested then email
[email protected]
or ring 01270-444037