Famous record producer backs Crewe's bid for Great British Railways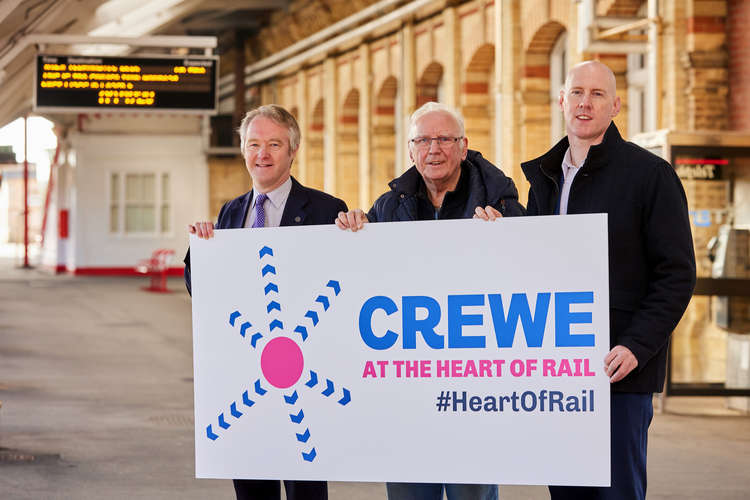 Cllr Sam Corcoran, Pete Waterman OBE and MP Kieran Mullan at Crewe Train Station.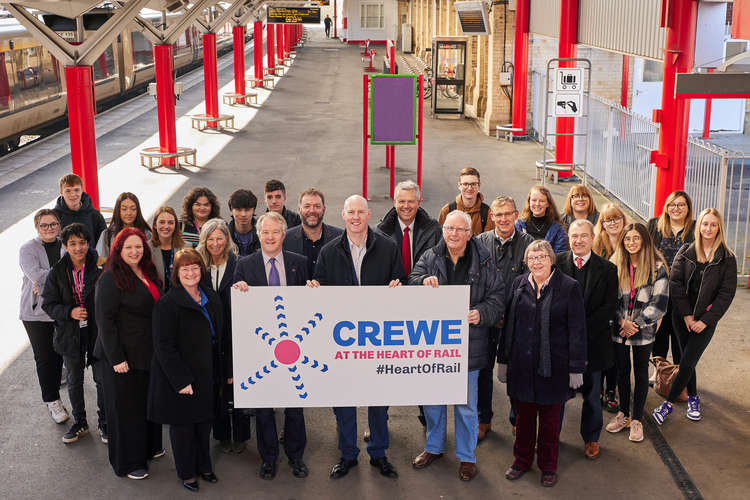 Stakeholders and supporters of GRB for Crewe at the train station this morning.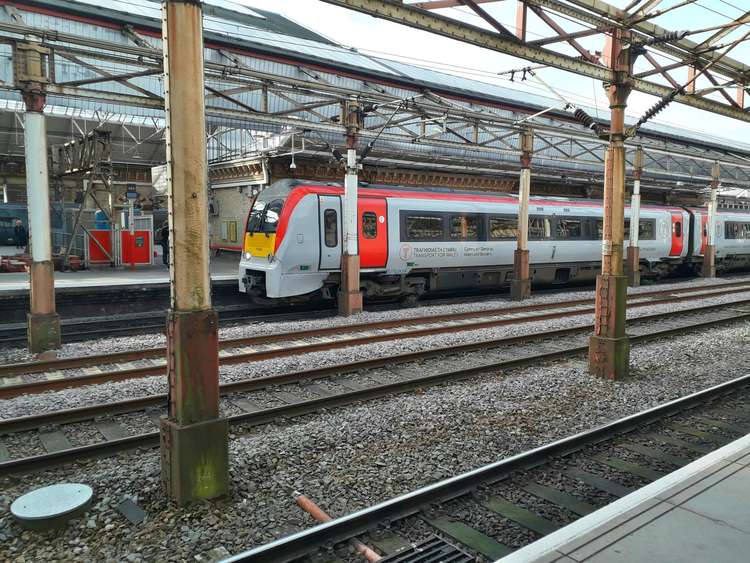 How Crewe Train Station looks today.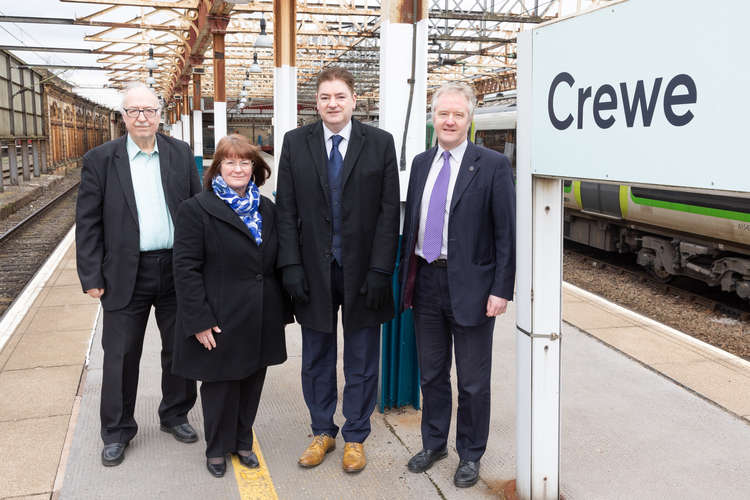 Councillors at Crewe Train Station to back the town's GBR bid last week.
Rail enthusiast Pete Waterman is fully committed towards Crewe becoming the Great British Railways Headquarters - following the towns official bid this week.
"The HQ can get Crewe started on its rise back up to the top. HS2 was the kick off and people said we couldn't achieve that but we did. We can achieve this too," says Waterman.
This morning (Friday), partners backing the Great British Railways HQ bid gathered at Crewe Railway Station to gather public support and celebrate the bid.
Among the stakeholders with Pete Waterman, were Crewe and Nantwich MP Kieran Mullan, Leader of Cheshire East Council, Sam Corcoran and Chair of Crewe Town Board, Doug Kinsman.
Pete Waterman told Nub News this afternoon: "I think we have a 50/50 chance for the Great British Railways HQ. There are more places than I thought there would be in this bid but it doesn't put me off Crewe's chances.
"This just shows how many people want this and how good of a deal this is for whoever wins it."
Bringing Great British Railways to Crewe will offer a range of levelling up opportunities to the town and help its rail sector to thrive.
Waterman said: "I think Crewe is better placed strategically, than the likes of the main competitors Derby and York.
"Crewe has the location, you can get anywhere from here, its a great place to work in the country of Cheshire. Not many people can argue that Cheshire is a bad place to live, take your kids to school and find a job. Jobs are everywhere in Cheshire. This could win it for us."
"There is a lot of negativity from some people about this bid but we can not win all of the people's votes.
"We want to appeal to the people that want to vote for Crewe and want to see the things that can actually happen.
"HS2 put Crewe back on the commercial map and the HQ will take that even further."
The headquarters would benefit many surrounding areas around Crewe due to the towns strong transport connections to the rest of the country.
The current timeline will see an announcement on which areas have been shortlisted for Great British Railways to be made in May, before a non-binding public vote and finally a decision made in summer 2022.
The 75-year-old said: "Crewe has had 25 years of bad luck. When I came to Crewe with my business 15 years ago, no one believed Crewe would rise up it was in a much worse position, everything was closing down.
"Today we have around 4,000 jobs have come from Arriva, the locomotive services, the heritage centre and so on, a lot has changed already.
"It is very easy to knock Crewe especially if you live here. I feel sad when I look back at kids haven't been able to get jobs because their parents haven't worked.
"This has created more negativity. But today I see that kids now want better things in life than they may have wanted before. They want new technology, they need jobs and they need inspirations.
"Crewe starts from here. HS2 will make it become a major place alongside the HQ, It will help to inspire the kids in Crewe."
Railways are at the heart of what Pete Waterman does. He built two successful train businesses in Crewe from scratch, creating hundreds of jobs in process.
Waterman commented: "I work hard, that is what we must do for Crewe. I am not a political person, I just care about who is fighting for Crewe.
"I said to Kieran Mullan today that we have to get every MP in the North West fighting for Crewe to give it the best chance for the HQ.
"Some businesses tell me not to get ahead of myself, HS2 is ages away. By the time businesses have got themselves together for Crewe, HS2 will be here.
"It will be just 50 minutes to London. It is staggering how quick that is.
"We need to get the HQ, the best station, HS2 and convince Crewe that this is going to work.
Responsible for over 500 million record sales around the world, Waterman OBE, has worked with the likes of Kylie Minogue and Donna Summer in his career.
He stated: "We are all fighting together for Crewe. We have got to beat the North East, they hunt in packs, they tried to beat us for HS2 in parliament but we won.
"HS2 and the railway HQ will bring 300-400 high-quality jobs. People say they will all come up from London but they won't, Maybe one third at the most. We have to be ready."
Bidders for the HQ be judged on how they measure up to six criteria of: alignment to levelling up objectives, opportunities for Great British Railways, Railway heritage and links to the network, public support, value for money and connectivity across the UK.
Waterman added: "I am a record producer, I never came out of the studio without a number one record. The public just didn't always see it that way. If the public didn't believe in it I went in the studio and made another."
"That's what we have to do for Crewe, keep working and keep convincing people that it is going to happen."
Great British Railways will oversee rail transport in Great Britain from 2023.
[I] Crewe Nub News is fully behind Crewe's bid to be the home of Great British Railways.