Crewe Alex: Morris and Bell demand high-energy finish as they make plans for next season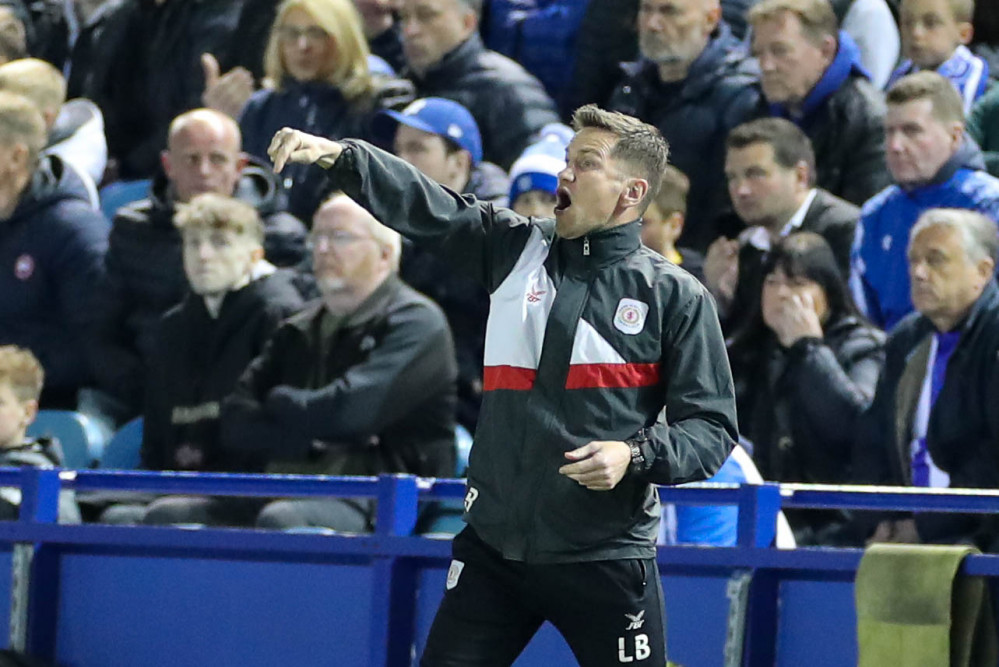 Lee Bell, pictured on the touchline at Hillsborough, wants Crewe to finish their home campaign with a flourish for the fans (Picture credit: Kevin Warburton).
CREWE's interim management team are making plans for next season - although their focus is on bringing the curtain down on the current one in style for the club's long-suffering fans.
Alex Morris and Lee Bell have overseen a Good Friday win (3-1) over AFC Wimbledon and a defeat (0-1) at Sheffield Wednesday on Tuesday night in their two games in charge since they replaced Dave Artell.
Now assistant boss Bell is promising fans a high-energy performance when Ipswich Town are the visitors for the final home game on Saturday (K.O 3pm).
Crewe finish the season at Lincoln City on April 30 by which time talks on the club's retained list could be well underway.
After their predecessor's prospects were handicapped by two poor transfer windows, both last summer and in January, Bell wants Crewe to be talking to players and their agents as soon as possible to lay the foundations for a productive summer.
The work identifying potential signings will be helped by the appointment of two key recruitment roles with the contractual details of the new faces in the process of being finalised.
Meanwhile, it is understood Crewe have fielded up to 30 applications for the vacant managerial post. Former players Justin Cochrane and Richard Walker have cropped up as potential contenders, while other names mentioned include former Everton Academy director David Unsworth, who has declared his intention to land a management role, and well-travelled boss Mark Cooper.
But the interim management team's long-standing links with the club as players and Academy coaches puts them in pole position to cement the permanent roles for a tilt at the League Two campaign which starts on July 30.
"The fans can expect us to be proactive in terms of preparing the players for next season and who we are trying to bring through the door. But we've got to get the job haven't we?" said Bell.
"We want to be proactive and we want to get some [players] through the door so we can speak to them as quickly as possible.
"I fully expect a busy summer and an exciting one, but we have got to make sure it's right for us. Everyone can see that things haven't gone right over the last couple of transfer windows so it is important that we get it right. We've got good people in place to that now.
"[Recruitment] is really important as in modern day football the pool is massive now if you look at under-23 football and then to cover everything, including non-league where there are excellent players who need monitoring, but that is impossible with a small management team.
"Now we've got recruitment people in who are important to give us the names. We can't go off 10-minute of good clips and it's so important and allows us to concentrate on what we need to improve on training methods."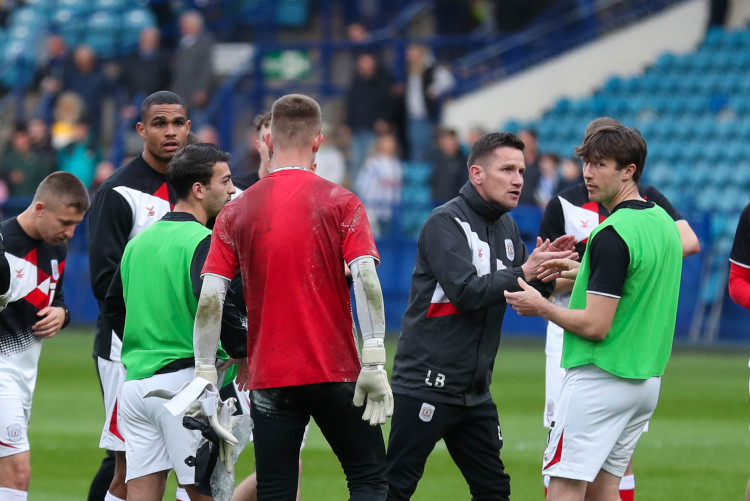 Lee Bell offers Chris Long some advice at Hillsborough on Tuesday night (Picture credit: Kevin Warburton).
With the numbers of senior players out of contract into double figures there will be plenty of decisions to be made in the next week or two.
Of the retained list, Bells added: "There's a little bit going on behind the scenes, but we are focused on training sessions and the matches. We'll delve into that in a little bit more detail at the back end of next week and when the season is finished."
Crewe offered no little spirit in defeat at Hillsborough in midweek, but the interim team want to see more of an attacking threat mounted against Ipswich.
"We want the players to go out and embrace it and take it head on, not take a back seat," said Bell.
"We want to give the crowd something to cheer, so we have got to play with lots of energy and more importantly we have to get closer to their goal and create chances.
"We want to win football matches and the things we can get done earlier the better. Kenny [Lunt] spotted something at Sheffield and we had a little tinker with the formation.
"We want to be successful and players have got to realise that things are going to have to change and we can't always wait until half-time.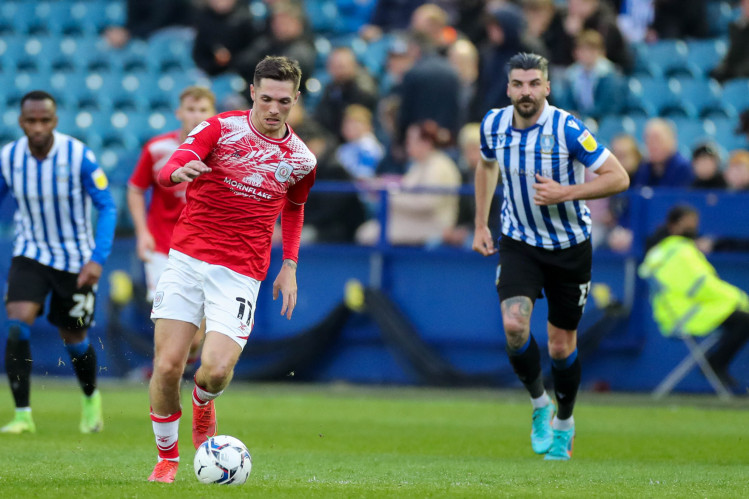 Callum Ainley on the ball at Sheffield Wednesday where Crewe went down to defeat (Picture credit: Kevin Warburton).
"We want to be on the front foot at home. I said to the players after the midweek game that they were like caged animals and there is so much to come from them in terms of what they can show with a football. It's just getting that little bit of confidence to do it and we are looking forward to seeing that on Saturday.
"We want high-energy performances, particularly at home, and we want to be aggressive at what we're doing and get shots away and put crosses into the box.
"The fans have been brilliant and last week they were right behind us. But we can't expect that as we have to put on a performance."
Among the changes made during the game at Hillsborough saw the reintroduction of former Chelsea youngster Tariq Uwakwe.
The attacking-minded defender's promising start to his Crewe career was cut short by a February knee injury.
But he is raring to go again and revealed: "There has been a whole lot of changes with Alex Morris coming in, but the boys have been going into the games feeling happy and they are getting a whole lot of support.
"The fans have suffered and we have to show them that we can go into next season and go straight back up."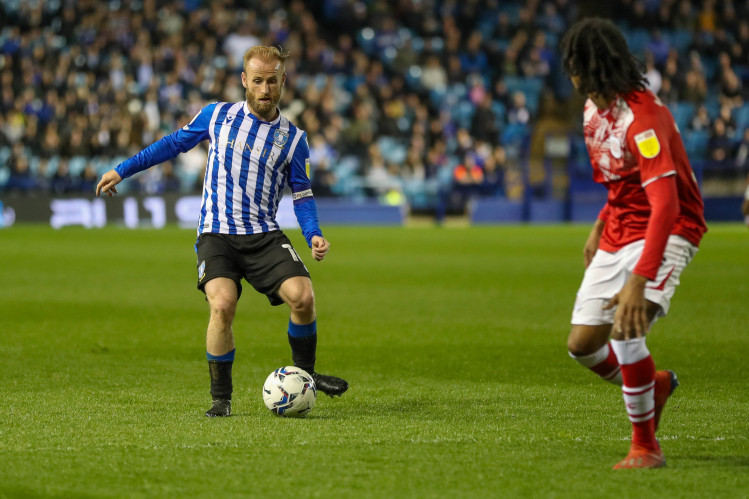 Tariq Uwakwe (right), on his return from injury, shadows Wednesday's Barry Bannan on Tuesday (Picture credit: Kevin Warburton).
Elsewhere on the injury front, loan defender Ryan Alebiosu has returned from Arsenal after undergoing treatment at his parent club for and he is available for selection.
Travis Johnson remains sidelined, although he could return to training before the end of the season after a scan showed no serious damage to his foot.
Josh Lundstram is a doubt for Saturday's game with a groin problem while Chris Porter has missed the last two games with an achilles issue.
Fellow striker Dan Agyei could yet make a return for Crewe's League One finale at Lincoln City on April 30.