Fines and warning letters issued in Crewe fly-tipping and waste crackdown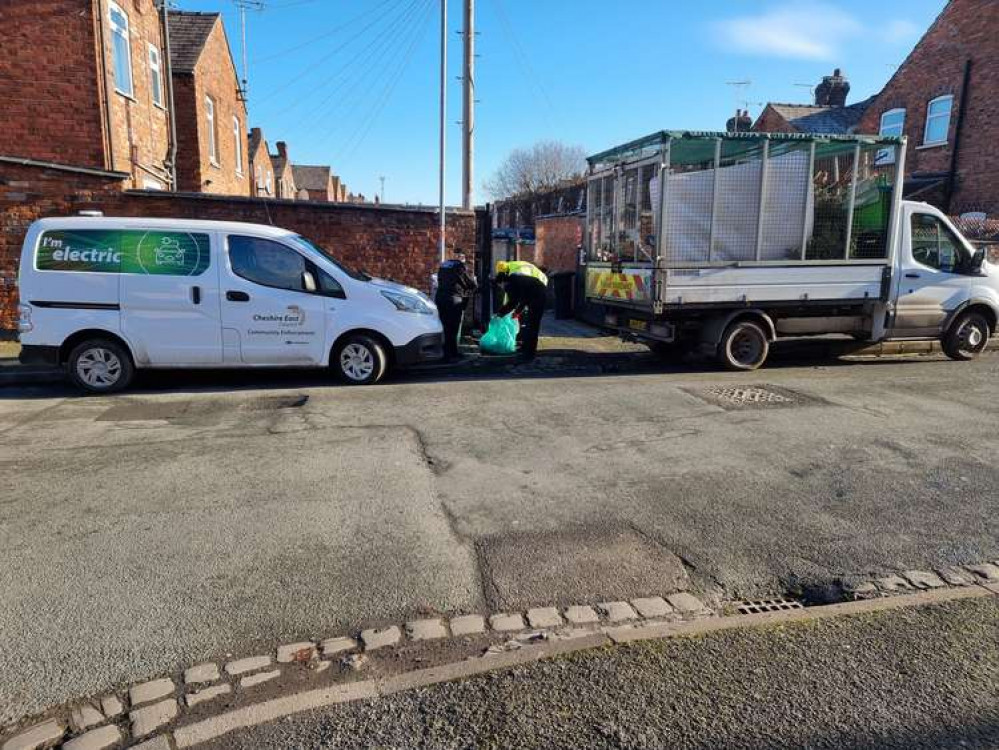 The clean-up operation on Derrington Avenue.
A CLEAN-UP crackdown in Crewe has seen nine fines issued for fly-tipping offences.
The Cleaner Crewe project has also seen council enforcement officers issue 16 warning letters over breaches in a bid to clean up some of the town's filthiest streets and alleyways.
In 2020 more than two-thirds of the borough's fly-tipping incidents took place in Crewe.
The scheme, a collaboration between Cheshire East Council, Crewe Town Council and environmental services company Ansa, was launched last April focusing on 26 streets and alleyways blighted by poor waste management and fly-tipping, including Walthall Street, Ruskin Road and Westminster Street.
After a period of engagement with residents enforcement measures were undertaken using new powers in the form of legislation called a section 46 notice.
The action was boosted by Crewe Town Council hiring an extra community enforcement officer, as well as supplying the project with equipment for clean-up operations.
A project to regenerate the alleyways also started in 2021 with 65 volunteers, residents, alley champions, Crewe Town Council rangers and the local MP Dr Kieran Mullan, spending more than 52 hours across the project cleaning up eight alleyways and wall-mounting more than 350 flowerpots.
Since November last year, the clean-up teams have completed 119 investigations, of which around 50 per cent contained evidence within the waste leading to further lines of enquiry.
Six £200 fines and two £400 fines for fly-tipping offences were issued and one of 16 formal breach of section 46 warning letters also resulted in a further £60 fine.
Cllr Mick Warren, chair of Cheshire East Council's environment and communities committee, said: "The issuing of fines to people is the last step in the council's enforcement policy and we are now seeing that this is acting as a proper deterrent to people thinking about dumping waste.
"Our enforcement officers and colleagues in the Ansa street cleansing team have worked together to great effect and the results have been truly impressive.
"We know that there is still a long way to go and of course the proof of the pudding will be in how sustainable this can be. The early signs are very positive and our commitment to the work isn't about to dwindle."
The scheme, which is said to have to encouraged residents to challenge and to report incidents of fly-tipping, will continue throughout the rest of the year, helped by a new community resident's group called Friends of Crewe Alleyways.